Roger K. Khouri, MD, FACS is a board-certified plastic surgeon trained in general surgery at the University of North Carolina, in plastic surgery at Brown University, in reconstructive microsurgery at New York University, and in hand surgery at Harvard. He was Professor of Plastic Surgery at Washington University School of Medicine in charge of the Hand Surgery Training Program before moving to Miami. He is married to Dr. Susana Leal-Khouri, a pathologist, dermatologist, and dermatologic surgeon. Of their five children, two are also surgeons.
Dr. Khouri established the Miami Hand Center in 1996. He has more than 35 years of experience as a reconstructive surgeon and hand surgeon. In 2002 He was awarded the prestigious Godina Lectureship in Microsurgery. He was a pioneer in reconstructive microsurgery and flap reconstructions before becoming a pioneer in regenerative and minimally invasive Hand Surgery.
In addition to being a most experienced hand surgeon in South Florida, Dr. Khouri is a true scholar. He has written more than 150 peer-reviewed scientific publications, including books and book chapters on hand surgery, regenerative surgery, and reconstructive microsurgery. He has given more than 500 lecture presentations and instructional courses at the most prestigious National and International Medical Conventions. He also served as Associate Editor of the most prestigious Plastic & Hand Surgery Journals. He is an active member of many distinguished Medical & Surgical Societies. He is a founding member of the American Society for Peripheral Nerve Surgery (ASPN), the World Society for Reconstructive Microsurgery (WSRM), and the International Society of Regenerative Surgery (ISPRES). Dr. Khouri is world renowned and recognized by his peers as a great teacher, innovator, and contributor to advances in hand surgery.
Over the past 35 years as a surgeon, Dr. Khouri has performed more than 50,000 procedures to treat various hand and upper extremity ailments and injuries. This probably makes him the most senior and the most experienced hand surgeon in South Florida, still active, still helping patients everyday, caring and curing their hand ailments and emergencies.
In Hand Surgery, Doctor Khouri is known for his expertise in:
Microsurgical reconstructions of damaged fingers
Microsurgical reconstruction of nerves and blood vessels
Replacement of amputated digits with microsurgical toe to hand transfers
Regeneration/Regrowth of amputated parts (Tissue regeneration)
Regenerative, minimally invasive treatment of Dupuytren contractures
Regenerative treatment of joint arthritis
Minimally invasive carpal tunnel release (Performed over 3000 carpal tunnel releases)
Minimally invasive trigger finger release (Performed over 1000 trigger finger releases)
Minimally invasive fracture repair and fixation
Nerve injuries, paralysis and palsies of the hand
Burned hands and burn scar deformities
Finger joints and finger nails
Complex wounds and tissue deficiencies
Severe and mutilating hand injuries
Pediatric hands and congenital malformations
Vascular diseases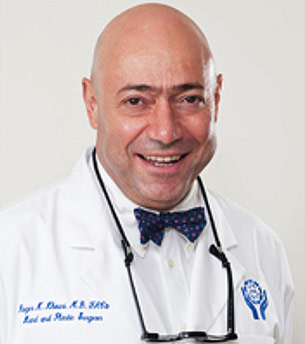 Hand Procedures
Miami Hand Center
2734 SW 37th Ave, Coconut Grove, FL 33133
(305) 642-4263