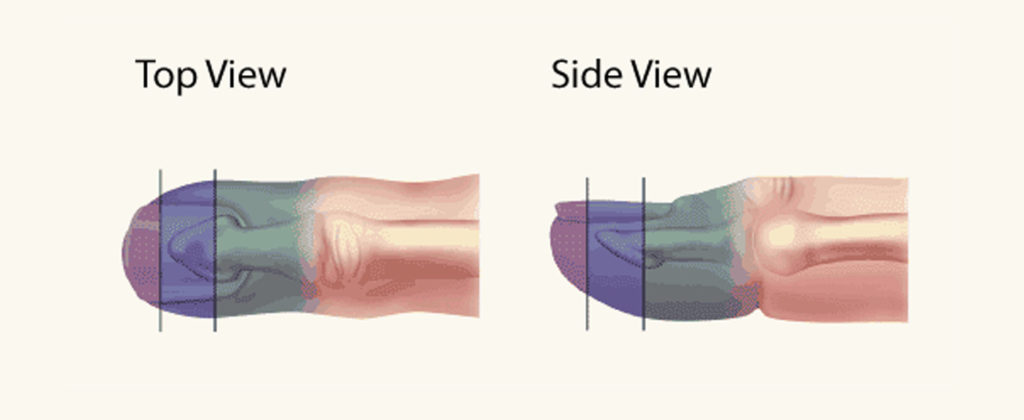 Treatment for Fingertip Injury

Finger tip injuries are very common hand injuries orthopedic doctors deal with on a daily basis. finger tip injuries can occur from a car door, lawn mower, cutting up vegetables and etc. The Miami Hand Center offers strategic flaps to reconstruct finger tip wounds.
A fingertip injury can be determined by examining the extent of the amputation using the joints as a reference point. If the injury does not extend beyond the joint closest to the cuticle, the injury is labeled a fingertip amputation. view illustration below.
What to do when a Fingertip Injury Occurs
In the case of a fingertip amputation it is important to keep the severed digit moist and wrapped in gauze or placed in a clean paper towel. If possible lightly apply water (Saline is recommended if possible ) but careful not to fully soak. The digit should be carefully placed in a ziplock bag with ice. It must be emphasized that the finger should lay on top of the ice. Covering the severed digit with ice runs the risk of tissue damage. Immediate medical attention is crucial to increase the chances of reattachment. Reattachment is no longer possible if the amputated finger has been separated from the body for more than 12 hours.
Cases where Fingertip Reattachment is Possible
Advancements in Medicine have greatly increased a Hand Surgeons ability to save severed digits
Children with fingertip amputation injuries are much more likely to recover with full functionality due to their young age
The point of reattachment is to regain the ability to grasp objects among other important tasks, If multiple appendages have been amputated then a Hand Surgeon may find it absolutely necessary to pursue the procedure
Cases where Fingertip Reattachment may not be Possible
The severed digit is contaminated or dirty
The severed digit is too mutilated for the procedure
If the injury extends beyond the finger tip perimeter
Solutions for Fingertip Injuries
A Finger Flap is skin tissue taken from appropriate areas of the patient's body such as the hand, love handles, the back, and the gluteus maximus to patch areas of a finger tip injury. The flap used is completely dependent on the patient's circumstances.
There are a variety of finger flap procedures that are utilized by orthopedic surgeons. Cross finger flaps are most popular when more than one third of tissue is absent from a finger tip amputation. Tissues like the flexor tendon, joint, or bone. The cross finger flap allows the orthopedic surgeon to cover more areas. Thumbs can be covered by the middle finger and small fingers can be supported by the ring finger.
Hand Procedures
Miami Hand Center
2734 SW 37th Ave, Coconut Grove, FL 33133
(305) 642-4263